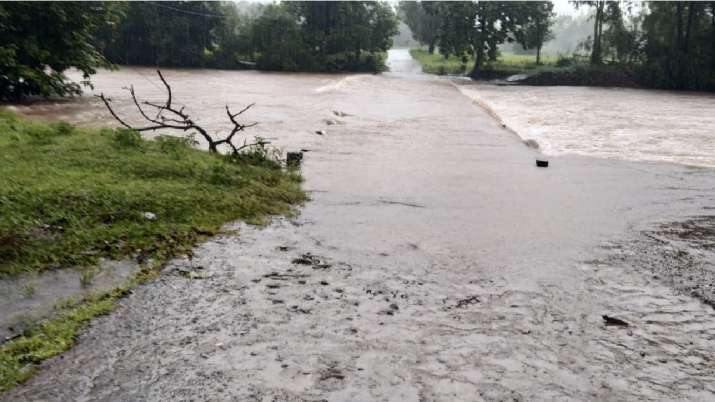 Highlights
Most of the bridges submerged under water
Rivers and drains in spate in Mangaon valley
People upset due to water logging
Maharashtra News: There has been heavy rain in Maharashtra last night. Due to incessant rains, many areas have been flooded due to which normal life has come to a standstill. Both the Upavade and Dakhanwad bridges were submerged in water due to heavy rains in the Mangaon valley in Maharashtra. Once again there has been heavy rain in Mangaon Khora.
rain in many areas
On Saturday night, this area of ​​Maharashtra has received heavy rains in Upavade, Shivpur, Anjivade, Dukanwad, Haldiche Nehru, Vasoli, Shivpur, Pulas, Vados, Mahadevche Kirwade etc. Due to which water logging has occurred at many places in the area. People are facing lot of problems due to water logging. Most of the bridges and culverts were submerged due to high water. Not only this, a bridge has also been washed away due to rising water. It is being told that there was no rain for the last 15 days and the rain has created a flood-like situation in the area. People have been asked to be careful about this.
Upvada and Dukanwad both bridges submerged
Due to overnight rains, both the Upvada and Dukanwad bridges in the region have been submerged in water. Due to increased water flow, most of the bridges in this area have been buried under water, blocking traffic. Let us tell you that due to incessant rains, the life of this area has become disturbed. It is getting information that people's homes have also been flooded, due to which people are facing a lot of trouble.
Rivers and drains in spate in Mangaon valley
According to the information, the bridge at Dhawalwadi has been washed away. It had not rained for the last fifteen days, but it rained for two days completely devastated the area. Rivers and drains are in spate in Mangaon valley. A flood-like situation has arisen in the entire area. People seem upset. The rivers have reached the danger mark and citizens have been alerted.
it might rain again
IMD has issued a warning regarding rain. There is a possibility of rain in Maharashtra till August 9. There is a possibility of rain in Madhya Maharashtra, Marathwada, Konkan.