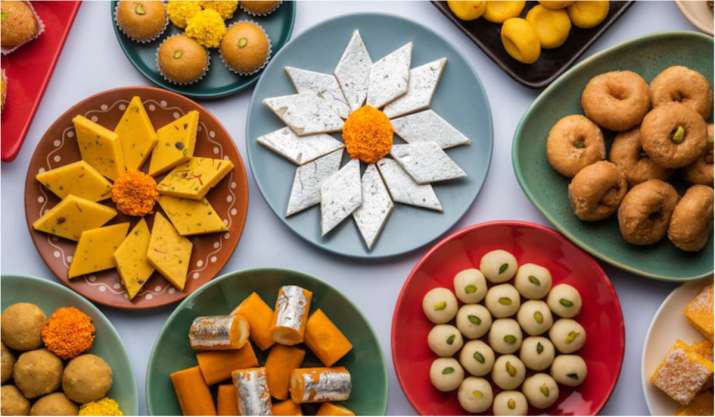 Sweets Recipes: It is said that every festival is incomplete without sweets. Now after Rakhi, festivals will come continuously. In every festival, different types of sweets are eaten, but the adulteration in them spoils the fun of your festival. In such a situation, you should avoid eating sweets outside and prepare sweets by bringing ingredients at home. Today we will tell you about some such special sweets in this article, which you can prepare very easily at home. Let's know about these sweets.
Cashew slice
Kaju Katli is one such sweet which is liked by everyone. Making it at home does not take much effort.
To prepare this dessert, first of all take two cups of cashews.

Grind it in a grinder.

Make sugar syrup by adding half a cup of water and 1 cup of sugar in a pan.

Add cashew paste to the syrup and mix it well.

When the paste becomes thick, add ghee and 1 teaspoon cardamom powder.

Now keep it in the tray and let it freeze for some time.

Put silver work on it and cut cashew nuts in the shape of katli.
Angry Foods: By eating these foods, the mercury becomes high, people of hot mood keep distance
Chocolate Ladoo
Everyone likes chocolate, people who do not like to eat cheese made from khoya, they easily eat sweets made from chocolate.
You grind the biscuit in a mixer.

In a bowl, mix butter, cocoa powder, chocolate sauce and sugar well.

Beat it till it becomes soft. After this add vanilla essence and mix well.

Add the batter to the biscuit powder and mix it well.

After making the laddoos, take chocolate in a tray and melt it, after melting the chocolate, put the laddoos in the chocolate tray.

After this put the tray in the fridge for 1/2 hour, your chocolate ladoos will be ready.
Vastu tips: Place a clock in this direction of the house, the door of your luck will open
Latest Lifestyle News