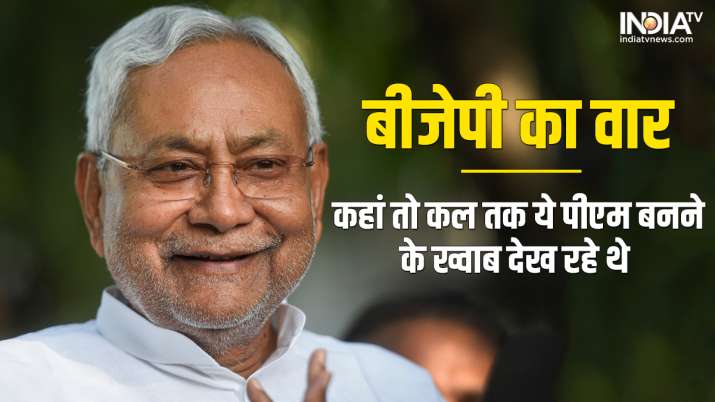 Bihar Politics: After being out of power in Bihar, BJP is now engaged in making further strategy. During this, the BJP has surrounded Chief Minister Nitish Kumar's going to the Grand Alliance, while the BJP is apprehensive about the loss. BJP's Bihar State President Dr. Sanjay Jaiswal also appeared apprehensive about the damage caused by united opponents in gestures, while targeted Nitish Kumar fiercely.
BJP State President Dr. Sanjay Jaiswal wrote on his Facebook wall, "We have read since childhood that human beings destroy themselves due to greed and greed. From 'Sushasan Babu' to 'Rubber Stamp' CM Nitish Kumar's The Delhi Yatra is a living example of this." Jaiswal wrote that till yesterday, he was dreaming of becoming PM and today the people of his thugs are not even ready to give him time.
Targeting the Chief Minister, the BJP state president wrote, "Actually Nitish has completely lost his credibility. The person who repeatedly stabs himself in the back of those who respect himself more than he deserves and the arms of those who insult by crossing the limits of dignity. If I sit again and again, how will anyone believe in him?
'Today Nitish has become a symbol of politics, not of policies'
Reminding Nitish of the many times insulted by RJD leaders, he wrote, "After the kind of language used by RJD's official Twitter handle and its actors, then someone with 'self respect' alliance with them. Even after doing it, he will not even look back and forth, but even after being adorned with similes like thief, shameless, shameless, palturam from the mouth of the children born in front of him, Nitish has proved his 'self-respect' by bowing his head at his feet. His ambition and greed have been so trampled that there is no trace of it left. Today Nitish has become a symbol of 'Kuniti' and not of 'Niti'."
BJP MP Ravi Shankar Prasad with Bihar BJP President Sanjay Jaiswal addresses a press conference after the resignation of Bihar Chief Minister Nitish Kumar in Patna
'Instead of sitting in the lap of abusers, would have chosen the path of struggle'
Jaiswal, while challenging triangular politics, wrote, "If Nitish had really had any trouble with the BJP and his self-respect had been alive, he would have instead of sitting in the lap of abusers who repeatedly tarnish his reputation, Would have chosen the path of struggle and today Bihar would have been witnessing triangular politics, but without hard work, the 'cream of power' achieved with the help of crutches has taken away their 'confidence' as well."