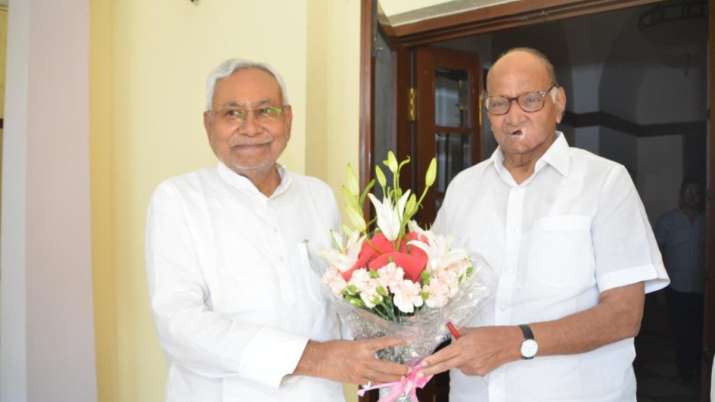 Nitish Kumar Met Sharad Pawar: Bihar Chief Minister Nitish Kumar has been camping in Delhi for the last three days. Are engaged in uniting the opposition parties for the 2024 Lok Sabha elections. Now in this episode, Nitish Kumar has met NCP chief Sharad Pawar on Wednesday. The meeting took place at Pawar's residence at 6, Janpath in Delhi.
More and more opposition needs to be united- Nitish Kumar
After meeting Sharad Pawar, Nitish Kumar said, "We met in a good atmosphere. We had a very good conversation. BJP is not doing any work, so it is necessary for maximum opposition to be united. All I want is that Most of the opposition should be united. If all the opposition parties come together, it will be for the good of the country."
Nitish Kumar Met Sharad Pawar
Nitish Kumar has already met Rahul Gandhi, Arvind Kejriwal, Sitaram Yechury, D. Raja, and Omprakash Chautala. However, Nitish Kumar says that it is not important for him to be the face of the Prime Minister's post. All the parties of the opposition should unite, this is the effort.
After meeting Nitish Kumar yesterday, Delhi Chief Minister Arvind Kejriwal tweeted, "Many thanks to Nitish ji for coming to my house. Many serious issues of the country including education, health, Operation Lotus, openly on behalf of these people, MLAs To buy and topple the governments elected by the people, the growing autocratic corruption of BJP governments, inflation, unemployment were discussed.
Nitish Kumar Met Arvind Kejriwal
At the same time, Nitish Kumar first met Congress leader Rahul Gandhi during his Delhi tour. The two leaders had a meeting of about one hour on Monday evening. Congress sources had informed that Nitish and Rahul have agreed on the 2024 front against Modi in the meeting and a strategy has also been made to increase coordination between like-minded parties. During the meeting, Nitish Kumar also thanked Rahul Gandhi for his support in the Bihar government and also congratulated him for the Bharat Jodo Yatra.
Nitish Kumar Met Rahul Gandhi
Earlier, Pawar has also tried to unite the opposition.
Significantly, Sharad Pawar has also tried to unite the opposition parties before this. He had recently said that BJP is slowly destroying allies. The same has been done with Shiv Sena in Maharashtra. This is the reason why Sharad Pawar has also appealed to all the parties to unite against the BJP.
At the same time, Nitish Kumar can also meet the President and the Vice President. If his Delhi tour is seen, then all the parties seem to be united for the elections of 2024, but the opposition parties under Nitish will be able to unite between the contenders like Rahul Gandhi and Mamta Banerjee, it will be a matter to be seen.
Latest India News