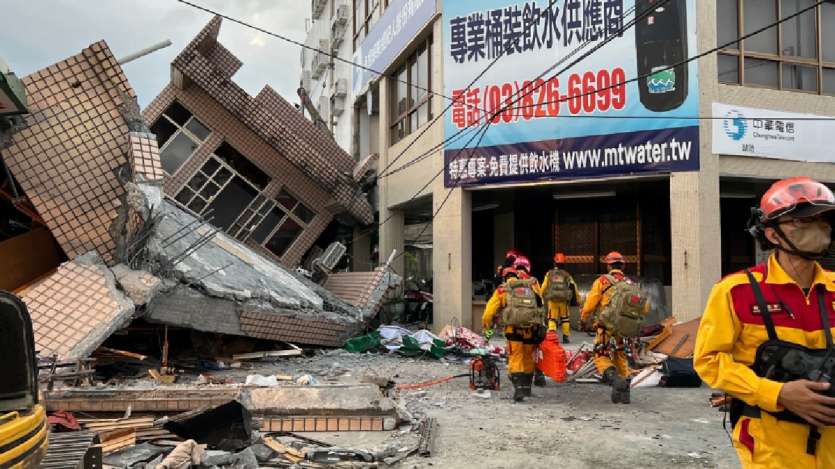 Image Source : PTI
Taiwan Earthquake: Strong earthquake tremors were felt in Taiwan on Sunday, causing a three-storey building to collapse and many people buried under rubble. A passenger train was also derailed at a station due to the earthquake. Sunday's quake, which measured a magnitude of 6.8, is the strongest among dozens of aftershocks felt in the island country's southeast since Saturday.
Image Source : PTI
An earthquake of 6.4 magnitude was felt in the same area on Saturday evening. Taiwan's Central Meteorological Bureau said that most of the damage appeared to be in the northern region of the quake's epicenter. The bureau said the epicenter of the quake was just seven kilometers below the surface near the city of Chishang.
Image Source : AP
Taiwan's Central News Agency said the quake collapsed a three-story building near the city of Yuli, with seven to 11 shops on the lower floors and people living on the upper floors. The building's 70-year-old owner and his wife have been rescued and rescuers are in contact with the 39-year-old woman and her five-year-old daughter trapped under the rubble, the agency said.
Image Source : AP
After the collapse of the upper two floors, the debris fell on the narrow road, due to which the power lines were also broken. Reports said the bridge on the road connecting the rural areas of Yuli collapsed and police and firefighters were on the spot.
Image Source : AP
In this incident one or more vehicles are expected to fall from the bridge. The Central News Agency reported that around 400 tourists were trapped due to a landslide at Yuli, famous for its orange day lily flowers. Generally the hill slopes here are covered with these flowers which tourists come to see. According to the agency, there is no electricity in the area and mobile phone signal is also weak.
Image Source : AP
The agency quoted the railway administration as saying that three coaches of a train parked there tilted to one side after an umbrella built on top of the platform fell at Dongli station in Phuli city between Yuli and the epicenter of the earthquake. A 36-year-old man was injured when the roof of the fifth floor of the sports center in Taoyuan city collapsed.
Image Source : AP
The tremors were also felt in the city of Taoyuan, 210 km from western Taipei, Taiwan's capital Taipei. Japan's Meteorological Agency issued a tsunami warning for several islands in southern Japan near Taiwan, which was later withdrawn.