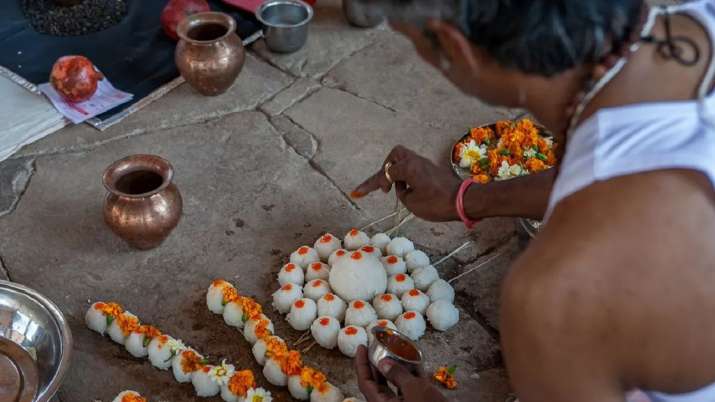 Highlights
Here the husbands are giving pind daan to their living wives.
Calls himself 'wife victim'
50 wife suffering husbands did this work
Maharashtra News: On the occasion of Pitru Paksha, many people donated their living wives on the banks of Banganga Tank in Mumbai today. All these wives were aggrieved husbands who have either been divorced or the matter is pending in the court. These days the month of Pitrupaksha and Shradh is going on, where people offer Pind Daan to their dead relatives. Pind Daan of ancestors is done so that the attachment of their bodies is released and they can start the journey ahead.
On this occasion, a unique sight was seen in Mumbai, where about 50 wife-stricken husbands sacrificed their living wives. All these people performed Pind Daan of their living wives with full rituals to get rid of bad memories of marriage. While one of these people also got shaved, the rest only took part in the worship.
Pind Daan was done because
Actually, this program was organized in Mumbai on behalf of Vaastav Foundation, an organization of wife-suffering husbands. Amit Deshpande, president of Vaastav Foundation, says that this pind daan has been done because all these people were troubled by the harassment of their wives. Most of these are people who have either been divorced or have left their wife. But his bad memories still haunt him. This event has been organized to get rid of these bad memories.
On the other hand, the husbands who do Pind Daan believe that women exploit them by taking advantage of their freedom, but men are not heard before them. His relationship with his wives has kind of died out, so this Pind Daan is performed on the occasion of Pitru Paksha, so that he can get rid of bad memories. Every year, Vaastav Foundation organizes such an event in different cities, so that such aggrieved husbands who are unable to forget the oppression of their wives and are forced to carry their bad relationship, get rid of them.