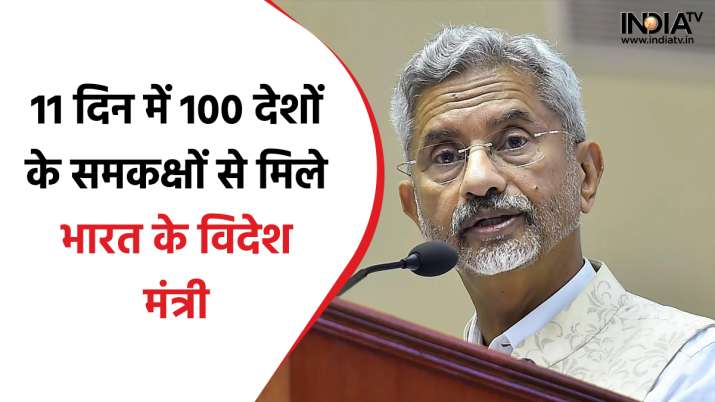 Highlights
Jaishankar's honesty in front of all countries on the international stage
Foreign Minister spoke openly on the issue of terrorism from Ukraine
India's frankness was praised in all countries
India's Foreign Policy: External Affairs Minister S Jaishankar has scored a century in meeting foreign ministers and their counterparts in just 11 days. That is, during this visit he has met counterparts of about 100 countries. Also participated in bilateral and multilateral meetings. He firmly placed every aspect of India emerging as a global leader in front of the whole world. The External Affairs Minister of India is being praised for his all-round clear oratory and balanced speech. He also shared photos of his meeting with counterpart representatives of several countries on his Twitter account.
During his visit, External Affairs Minister S Jaishankar said that in the current polarized world, India really matters and is largely known as the voice of the South (Hemisphere). That is, many countries consider India as their voice. He has a lot of expectations from India. India has created this image because of its liberalism and independent foreign policy. Strong leadership of PM Modi is the cornerstone of this independent foreign policy.
India's side kept openly on every issue
S Jaishankar openly spoke on India's stand on food and energy crises with threats from Ukraine to terrorism and global economy looming large on the international stage. From Russia to America, Pakistan and China, he narrated it aloud. The manner in which Jaishankar openly played India's sting on every issue is being praised everywhere. In such a short time, he also wrote a new story by meeting foreign ministers and counterparts of 100 countries. From this it can be understood that the External Affairs Minister is working towards strengthening India's international relations by becoming more energetic on the lines of PM Modi.
India is an important bridge in every state of the world
Jaishankar concluded the first leg of a week-long hectic schedule of the 11-day US visit with a speech at the United Nations in New York on Saturday. During this period he met counterparts from around 100 countries and participated in several bilateral and multilateral meetings. Speaking to Indian reporters, Jaishankar said, "There is no doubt that the United Nations General Assembly reflects the state of the world, which is polarized especially at the moment. In fact, India matters in the state the world is in. We are a bridge, we are a voice, we are a vision, a means.
Global economy and food and energy crisis
The External Affairs Minister will leave for Washington on Sunday as part of the second leg of his US visit. Jaishankar said that when normal diplomacy is not working properly, then India has relations with many countries, it has the ability to communicate with different countries and regions and raise important issues. He said that today India is 'widely' considered the voice of the South globally. Jaishankar said that the global economy is in crisis and rising food and fuel prices are causing concern, there is also concern about the supply of fertilizers, the increasing debt burden has also created deep concerns in many countries. "It is very frustrating that these issues are not being heard. They are not being given a voice.
India is becoming a global voice
The major issues are not being raised prominently in the discussions in global councils. It is New Delhi which is talking for many developing countries. Jaishankar said, "I conclude this week with the feeling that India really matters in a polarized world and it is very much because of the leadership of Prime Minister Narendra Modi." spoke to him about Prime Minister Narendra Modi's role at the UN Climate Summit 'COP-26' in Glasgow last year and in recent regional meetings. Jaishankar underlined that it is both the landscape and the leadership that have made India's sense of importance all the more important.
Latest World News