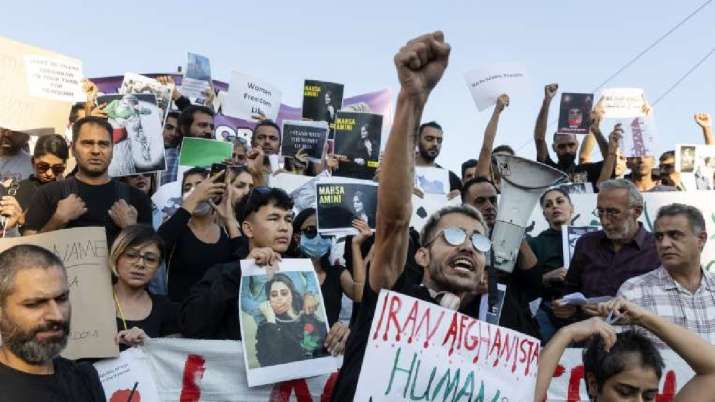 Highlights
Internet completely stalled in Iran
Dozens of protesters were killed in the demonstration
We are obliged to ban the Internet – Iran's communication minister
Iran Hijab: Hijab protests continue in Iran. Many people have also lost their lives in the anti-hijab demonstrations. Hundreds of people are injured but the government and the protesters are not keeping pace. In view of the increasing protests, the Iranian government has shut down the internet in the country. Now Iranian officials have given information about this.
Internet completely stalled in Iran
Officials said they would block internet access in the country until peace is restored on the streets. Significantly, protests over the death of a young woman in police custody have shaken the Islamic Republic. Thousands of Iranians have taken to the streets in protest since last week's death of 22-year-old Mahsa Amini, who was captured and taken to a 're-education centre' in Tehran, apparently because of the proper wearing of the hijab. Didn't have to wear.
Demonstration in 40 cities
Since Friday, demonstrations have taken place in at least 40 cities across the country, including the capital Tehran, with protesters demanding an end to violence and discrimination against women, as well as an end to the mandatory wearing of the hijab, CNN reported. .
Dozens of protesters were killed in the demonstration
Dozens of protesters have reportedly been killed in clashes with security forces. Amnesty International said on Friday that at least 30 people, including four children, had died. According to state media Islamic Republic of Iran Broadcasting (QAFQAI), 35 people have died.
We are obliged to ban the Internet – Iran's communication minister
CNN reported that officials hope they can bring the protests under control by banning the Internet. Speaking to state broadcaster Kafkai on Friday, Iran's Communications Minister Ahmed Wahidi said, "Until the riots are over, the internet will have its limits. To stop the rioting through social media, we are obliged to ban the internet." Huh."
what is the matter
Mahsa Amini, 22, was detained on September 13 for not wearing the hijab properly. He died three days later in police custody. The authorities had told the cause of his death to be a heart attack. After this, public outcry arose. Demonstrations began after Amini was buried on September 17 and have spread to dozens of cities. At least 11 people have been killed, according to the Associated Press news agency. Gradually the matter reached the United Nations. The special thing is that America has also come in favor of Iranian women. Human rights organizations are also condemning the Iranian government in this matter.
Latest World News