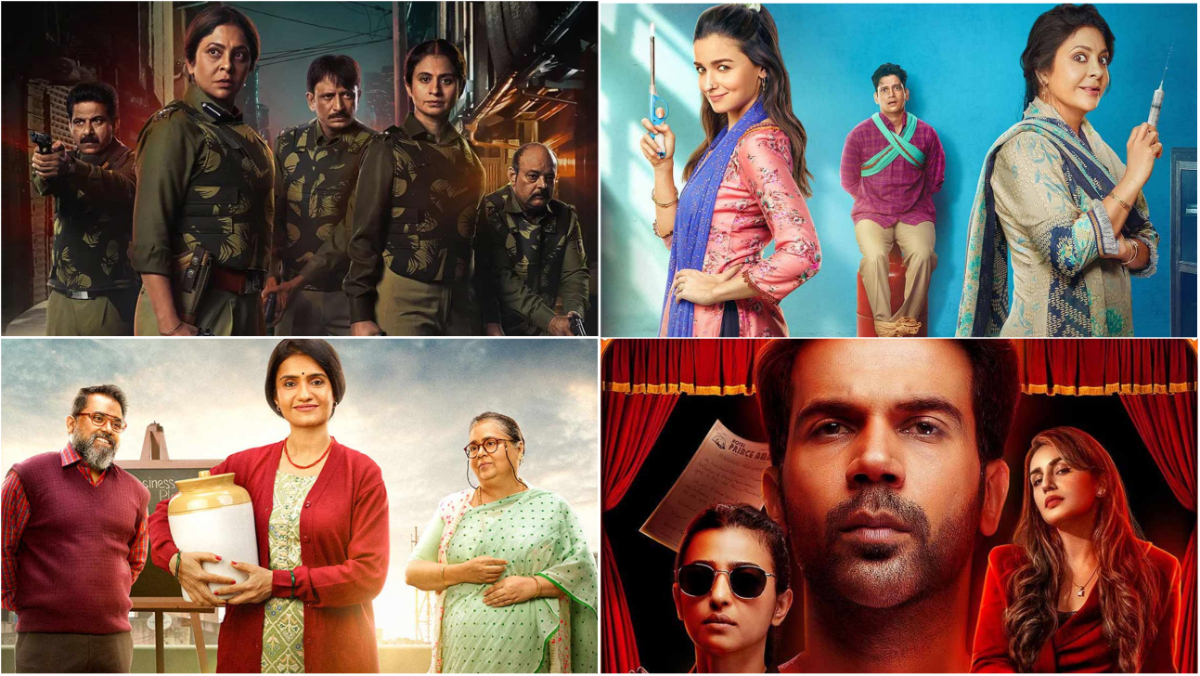 Top 10 OTT movies and webseries 2022: December is the season to snuggle up under a blanket with snacks and a sip of tea, bingeing on movies and series. It's the last month of the year, looking back at the entire year, here is a list of Hindi movies and web series that ruled OTT platforms like Netflix, Amazon Prime, Zee5, Disney+ Hotstar and others.
a thursday
The Yami Gautam starrer opened to a lot of appreciation and is available on Hotstar. It is a thriller film, which also stars Atul Kulkarni, Dimple Kapadia, Neha Dhupia and Karanvir Sharma.
fame game
Madhuri Dixit has made her OTT debut with 'Fame Game'. It is the story of a woman struggling to be a good mother and protect her wealth from her greedy husband. This series was well liked. It was one of the best releases on Netflix in 2022.
Monica, oh my darling
'Monica, O My Darling' is a recently released crime thriller which the Indian audience has been waiting for a long time. Huma Qureshi, Rajkummar Rao, Akanksha Ranjan Kapoor and Radhika Apte have played their roles well in the Netflix movie.
jamtara season 2
'Jamtara Season 2' was a huge hit. This is the story of two cousins ​​who run a phishing scam along with their dropout friends. He called people from a remote village in Jamtara, Jharkhand. However, the matter got complicated when the police got involved and the scam became a news story. This crime series is available on Netflix.
darlings
Alia Bhatt and Shefali Shah starrer 'Darlings' was also a big hit. The dark comedy on Netflix revolves around the topic of domestic violence. The film tells the story of women who choose to be with their partner despite many tortures. This was Alia Bhatt's first film as a producer.
Aranyaka
'Aranyak' is a story of a political conspiracy in which Raveena Tandon plays the role of a cop. He sets out to find a murderer and each clue unfolds a new story. The Netflix series stars strong actors like Meghna Malik, Ashutosh Rana, Zakir Hussain and Parambrata Chatterjee.
art
'Kala' marks the debut film of Irrfan Khan's son Babil Khan. It is about a woman who longs for the love of her mother, who always wanted a son. Music is the only thing that has the ability to bind them or tear them apart. The Netflix film stars Tripti Dimri, Sameer Kochhar and Swastika Mukherjee in a stellar cast.
Saas Bahu Aur Achar Pvt. Limited
Saas Bahu Aur Achar Pvt. Ltd' is a Zee5 webseries. This is the story of a divorced woman trying to set up her own pickle business. She desperately tries to grow the business to earn money and get her children back from her ex-husband.
Nikki Tamboli revealed the secret of toned body, you too can keep yourself fit like this
Freddie
Alaya F and Kartik Aaryan starrer 'Freddy' recently released on Disney+Hotstar. It is a film that revolves around an awkward and introverted Dr. Freddy, who is desperate to find a partner. He eventually falls in love with a girl, but the story takes a dangerous turn.
These Bollywood films will be eagerly awaited in 2023, see here the list of top 5 films
delhi crime season 2
'Delhi Crime Season 2' proved to be a bigger hit than its first season. It is about a gang that is killing old people for money. The series also touches sensitively towards caste issues and the stereotypes associated with them. You can watch the Shefali Shah starrer series on Netflix.
Anil Kapoor wants to work with 'Kantara' star Rishabh Shetty, the Bollywood star himself revealed